Our non-conventional, network-based organigram makes the most of every team member's kaleidoscopic capabilities, optimising efficiency and improving results.
In summary, we are a team of professionals who believe things can be done differently.
TELL US YOUR STORY AND WE WILL HELP YOU PUT YOUR PROJECT TOGETHER!
ARQUIO IS MORE THAN THE SUM OF INDIVIDUALS
Eduardo
Director
Arquio founder, passionate architect and roller-skater. When I am not developing non-linear solutions for our projects with my team, you will find me enjoying the park with my kids. I firmly believe architecture cannot be understood without people involvement: it is a like a second skin that must fit the end-user perfectly. Spaces are a part of yourself, they not only represent you but make a complete and improved version of yourself.
Elisabeth
Architect
Trained as an architect, and interior designer by calling, I am passionate about aesthetics in every sense. Throughout my career I have worked on several projects with diverse teams, and my concern has always been with aesthetic values. Both in my working and family life, my clients and my children benefit from my organizational skills, efficiency and optimization capabilities. My experience in property management and my interior design abilities form a powerful combination to advise clients on property investment.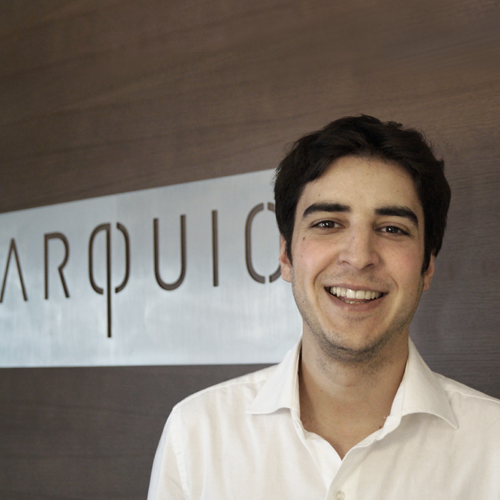 Juan
Architect
Retail specialist and urban design enthusiast, I love to get lost in the city and find it again in every corner. Curious by nature, I trained in several disciplines, from graphic design on BIM environment to artistic expression through architectural photography. I enjoy designing and optimising projects, regardless of whether they are as simple as a toy kitchen or a complex as a 2,000 sqm store for a sports brand.
Gerard
Executive assistant
Building and technical architect (in training) and sports enthusiast, I am working while I finish my higher education. At the office I develop the technical and commercial side of projects, and at university I take part in the student council. As a negotiator, entrepreneur and student, I am interested in both new construction techniques and business sales strategy.
Our clients entrust us with the design and building of their stores year by year. After six years experience in Spanish airports, in 2014 we began our international expansion with the first shops in Helsinki and Prague airports.